Smarter Inventory Management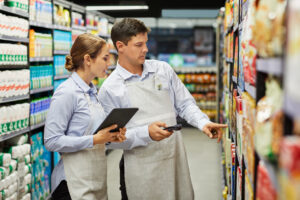 Retailers often face challenges in balancing their inventory levels. Having too little risks lost sales and, eventually, lost customers. Excess inventory can lead to product damage and outdated product.
In the 2023 FMS Independent Grocers Financial Study, the average grocery retailer turns their inventory about 18.4 times per year. Increasing inventory turns is one way to go from average to being a profit leader. By selling items more quickly, there's a reduced chance of item loss due to damage.
A good place to start is with smart ordering. Having an experienced order writer in each department who can make informed decisions on items and quantity ordered will help reduce the overordering of items that don't sell as fast. Having a data-driven knowledge of your inventory in the backroom, coolers, and freezers is crucial to understanding your current inventory.
Smart ordering solutions help stores save money on inventory expenses. These systems provide tools for better inventory management that will allow the store to know what they have on hand. You can inventory all the items in your store on your own schedule. A retailer can take periodic inventories to have a value of the inventory or inventory boxes of seasonal items that will be stored until next year. The store employees can tell what is in the box by placing the inventory sheet on the outside of the box. A retailer can also inventory direct store delivery (DSD) items in the backroom to evaluate the service level they are receiving and use the data to help make buying decisions.