Fulfilling Community Needs: 
Year-End Food Donation Strategies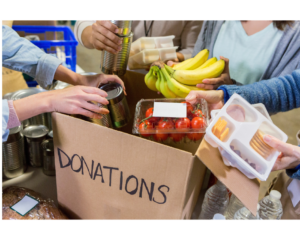 As independent grocers, it's crucial to maximize donation opportunities. However, managing these donations requires some attention to detail. Contributions to food pantries, for instance, necessitate inventory adjustments and are typically accounted for as shrink. Keeping detailed records of your donations — what was donated, to whom, and when — is essential. This documentation is not only crucial for inventory management but also helps in leveraging potential tax benefits. Consulting with a tax advisor can help clarify these benefits for both your personal and business finances.
FMS' G.O.T. Systems' Shrink and Markdown product is specifically designed to simplify this process for retailers. Here's a brief overview of how it assists:
Data Sharing: Keep your Point of Sale (POS) system updated with the latest item lists, including PLU/UPC, regular retail, and other identifiers, on a weekly basis.
Shrink Management: Utilize the provided handheld scanner and mobile printer to record shrink due to disposal, inter-department transfers, or donations. Regular reports help monitor margins and analyze loss patterns.
Markdowns: Identify soon-to-expire products, scan, and apply discounts. Print discount labels for POS scanning and use reports to tweak strategies and minimize shrink.
Donations: Simply scan the markdown labels or UPCs/scale labels of items designated for donation and choose a recipient from the list of registered food banks/pantries. G.O.T. will notify the selected food bank about the availability of these products, streamlining the donation process.
By reducing shrink, you directly increase your bottom line. G.O.T.'s donation program not only assists in making a meaningful impact in our communities, but also helps reduce your tax liability with minimal effort.